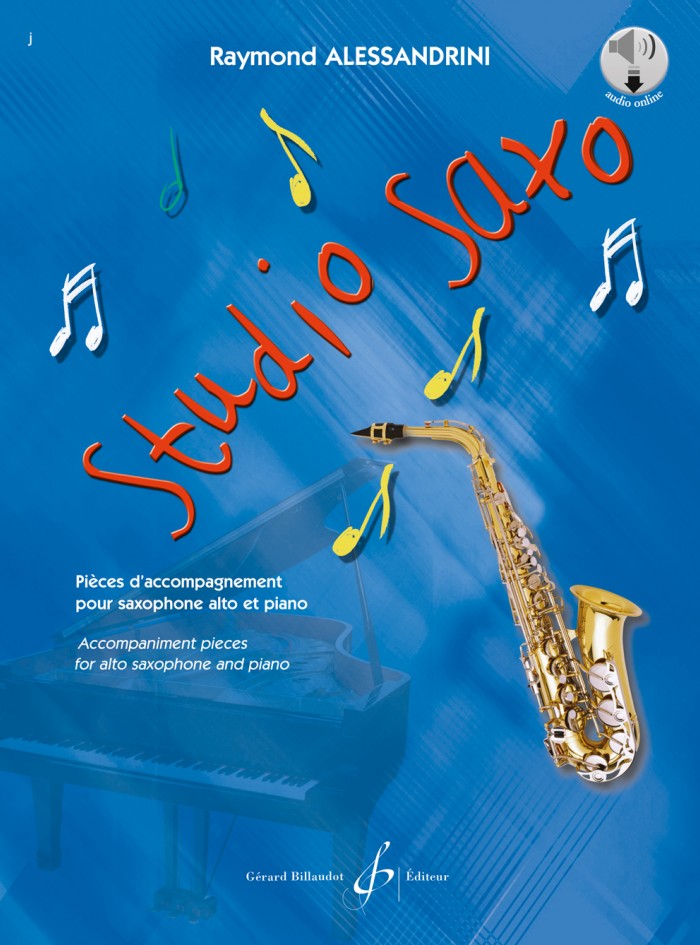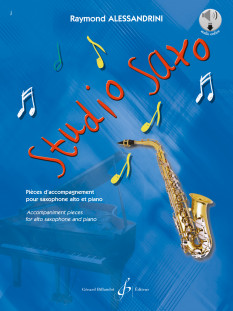 Clone of Studio saxo
Add-on pieces for Saxo Tempo
Raymond ALESSANDRINI
More informations
Interpreters
Jean-Yves FOURMEAU (saxophone), Raymond ALESSANDRINI (Piano)
<p>The progression in this volume strictly follows that of Jean-Yves Fourmeau' s saxophone tutor: Saxo tempo. Therefore, the main difficulty will not be so much technical as musical, each piece being precisely conceived as a new harmonie, stylistic and rhythmic world in itself</p> <p>The difficulty for the beginner lies more in his ability to immerse him/herself in a new, richly elaborate sonic world, paying attention to every detail of its harmonic, stylistic and rhythmic conception.<br /> Each piece refers to a specific theme. It may be a film, as in The Magnificent (no 15), Ben Hur (no 17), or a particular soundtrack like Fellini - Nino Rota (n° 18), American musicals (n° 1 &amp; 14) in the style of the 30s &amp; 40s, Screwball comedies (no 8), or a composer like Verdi (no 16), Stan Getz- Joao Gilberto (no 13), or Irish folk music (n° 2 &amp; 7), or dance music or pop-songs from the 70s or jazz.<br /> Each piece is meant as a little soundtrack to a film.</p> <p>From a pedagogical point of view, we recommend starting a new piece in this volume when the student is three lessons ahead in the tutor. This will give him more confidence in his technical abilities.</p>
Published date
30/11/2004
Clone of Studio saxo
Add-on pieces for Saxo Tempo
Raymond ALESSANDRINI
More informations
Interpreters
Jean-Yves FOURMEAU (saxophone), Raymond ALESSANDRINI (Piano)
The progression in this volume strictly follows that of Jean-Yves Fourmeau' s saxophone tutor: Saxo tempo. Therefore, the main difficulty will not be so much technical as musical, each piece being precisely conceived as a new harmonie, stylistic and rhythmic world in itself
The difficulty for the beginner lies more in his ability to immerse him/herself in a new, richly elaborate sonic world, paying attention to every detail of its harmonic, stylistic and rhythmic conception.
Each piece refers to a specific theme. It may be a film, as in The Magnificent (no 15), Ben Hur (no 17), or a particular soundtrack like Fellini - Nino Rota (n° 18), American musicals (n° 1 & 14) in the style of the 30s & 40s, Screwball comedies (no 8), or a composer like Verdi (no 16), Stan Getz- Joao Gilberto (no 13), or Irish folk music (n° 2 & 7), or dance music or pop-songs from the 70s or jazz.
Each piece is meant as a little soundtrack to a film.
From a pedagogical point of view, we recommend starting a new piece in this volume when the student is three lessons ahead in the tutor. This will give him more confidence in his technical abilities.
Published date
30/11/2004
To access content below, unlock access with your personal code the first time, next time only log in to your account.
I still don't have an account
Create an account, it is easy and free to create an account. You will be able to download contents and unlock books.
×