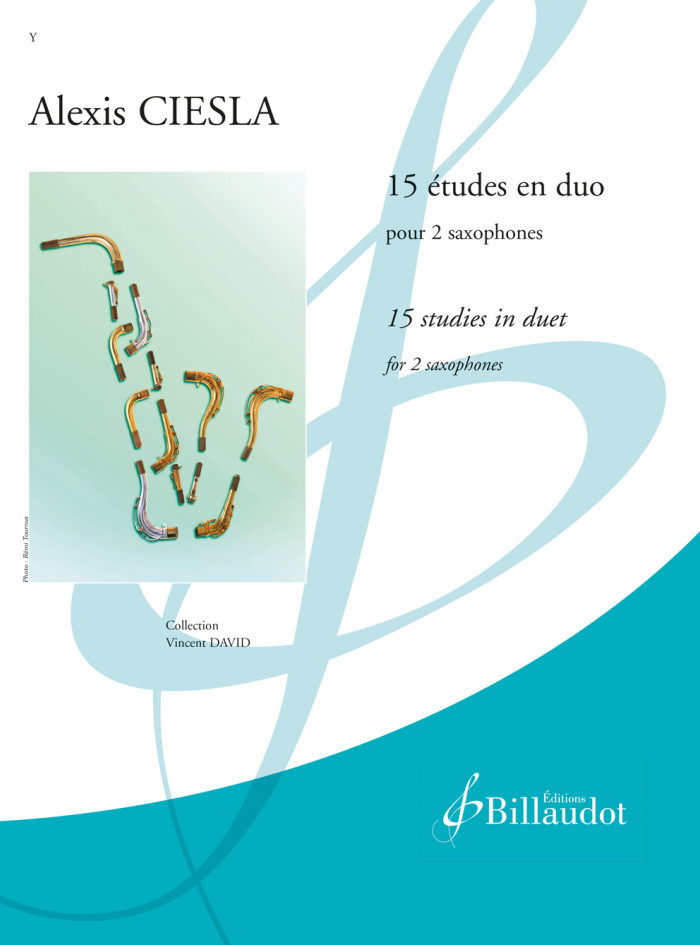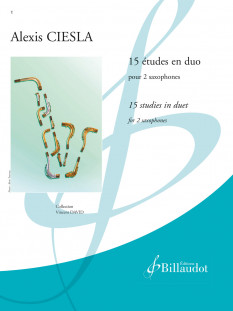 15 studies in duet - saxophone
for 2 Eb saxophones
Alexis CIESLA
Studies - Saxophone
GB10281
More informations
Interpreters
Alexis CIESLA
<p>These etudes are conceived as duets and Jeature new technical issues and musical challenges intended for 2nd Cycle students. Their unusual format and content fill a gap in the pedagogical repertoire.</p> <p>Inspired by the 15 studies in duet for clarinet (published by Billaudot), each etude has a distinct musical atmosphere and addresses specific technical problems: tone quality, slurs, detached notes, mixing meters, arpeggios, ornaments...</p> <p>The etudes also highlight important elements of chamber music practice such as the ability to listen to each other carefally, individual and ensemble intonation, phrasing and musicality a. o.</p> <p>Both parts being equally challenging, feel free to alternate and doubly enjoy the piece!</p>
Published date
15/03/2022
Interpreters
Alexis CIESLA
These etudes are conceived as duets and Jeature new technical issues and musical challenges intended for 2nd Cycle students. Their unusual format and content fill a gap in the pedagogical repertoire.
Inspired by the 15 studies in duet for clarinet (published by Billaudot), each etude has a distinct musical atmosphere and addresses specific technical problems: tone quality, slurs, detached notes, mixing meters, arpeggios, ornaments...
The etudes also highlight important elements of chamber music practice such as the ability to listen to each other carefally, individual and ensemble intonation, phrasing and musicality a. o.
Both parts being equally challenging, feel free to alternate and doubly enjoy the piece!
Published date
15/03/2022
×